Well I am testing something new for this post. I found a new app that would enable me to post from the iPad, which could potentially make my life more simple.
So here's the scoop:
Isaiah is sleeping soundly in his own bed with Kermit at his side.
This morning his urologist told me that we could go home, if I was comfortable with Isaiah's condition. At that point Isaiah still wasn't eating or drinking really well, and I didn't know how to use the ACE, so I told him I wasn't comfortable, and he laughed at me. That's ok because I really like this doctor!
So I got my tutorial for using the ACE, and Isaiah started chowing down, and we left the hospital in record time.
We used the ACE for the first time this afternoon, and everything seemed to go well. I look forward to perfecting my technique as I was a little messy, but thankfully Isaiah didn't seem to mind.
Nadia was so happy to see her brother! And I think the feeling was mutual. They played together on the couch for a little bit after Nadia woke up. Of course their play consisted of Nadia grabbing Isaiah wherever she could and Isaiah trying to get her to play peek-a-boo with a blanket while he shouted "Sister!" as loud as he could. Yes, he is feeling much better.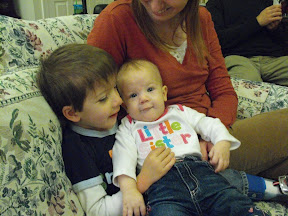 (Taken while visiting my great uncle over Christmas)
Thank you again for your prayers. While it's never fun to have your child go through such yucky stuff, the prayers of friends and family encourage beyond description.
In 2 weeks we go for a post-op visit, and 4 weeks after that we return for another visit. Until that 2nd visit, Isaiah will have a catheter in the hole the doctor created. Please pray for him not to be tempted to play with the apparent toy dangling from his stomach and for patience and ingenuity for me as I try to keep him from crawling around and irritating his stomach area.
We praise God for the friends and family who helped us with prayer, but I also have to give a special thank you to the grandparents and a special couple who helped with Nadia. May God pour out blessings on your heads!
- Posted using BlogPress from my iPad